Crack open the bubbly, or juice box depending on your age and preference! We've "topped out" the polyurethane Passive House! As announced in our earlier blog, the roof was installed on 25 November. The video, which is up on our YouTube account PolyurethanesMedia along with other interesting clips, can be enjoyed below; expect additional videos, pictures and commentary from those involved on the Polyurethane Passive House website and here on the blog!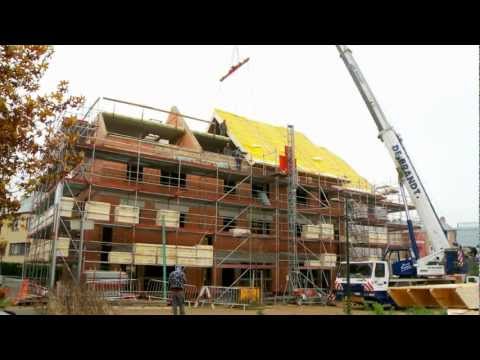 The practice of "topping out" a new building, or placing the final beams of a roof, like the Passive House standard can be traced to Scandinavia. It's usually celebrated with a commemorative drink; we thus ask you to join us, rise from your polyurethane chair and grab a cold one from your polyurethane insulated fridge (yes, polyurethanes are used throughout your daily life! For a cool animation with more information on this, click here!
Thanks and till the next update!