As your reading this, the polyurethane Passive House roof is on its way to the construction site where it will be installed 25 November. Expect videos, pictures and commentary from those involved on the Polyurethane Passive House website and here, on the blog, next week!
For now, please enjoy our Benny Hill-esque video of the roof production in Hulst, The Netherlands.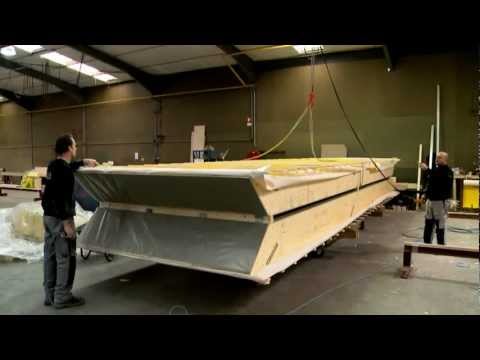 To give you some background information, the roof was produced on 14 November. Moving inside out, the roof consists of 11mm chipboard followed by a layer of vapor barrier film to help prevent water absorption and moisture drive into the insulation. The insulation comes after. The roof includes 4 layers of 100mm each, giving a total thickness of 400mm. The lambda value of each prefabricated panel is 0.023; this is the value of how much heat the material allows to flow through. The closer lambda is to zero, the better the thermal insulation; in our case, those lucky future residents won't ever have to worry about a cold winter or hot summer. The final component, before those aesthetically pleasing 50mm roof tiles, is another layer of vapor barrier film. Total thickness when completed will be 505mm.