It might look more like a futuristic skipping rope, but the Total Artificial Heart (TAH) from Syncardia Systems has already saved the lives of 950 people worldwide. The Total Artificial Heart is a mechanical device which treats total biventricular heart failure – when both sides of the heart are failing to pump blood through the body.
Over 1100 Europeans were listed as awaiting donor heart transplants at the end of 2010[1]. However, with only 600 donor hearts available for transplant within Europe every year, the tragic consequence is that up to 20% of patients on heart transplant lists will die before an organ becomes available. The TAH can act as a valuable bridge to transplant, prolonging patient lives until a heart becomes available. This is precisely what happened to Matthew Green in the UK, interviewed in the video below. Mr. Green was unable to walk before he received the total artificial heart transplant, which now gives him 3 years to find a donor and has brought him the hope of being able to go cycling in a few months time.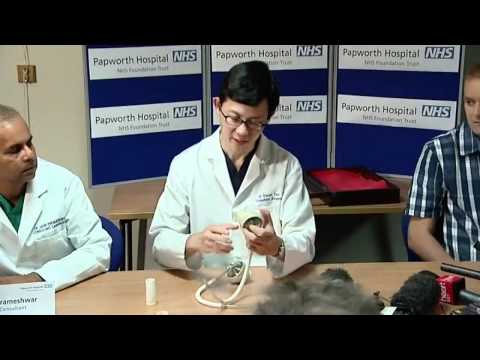 A typical TAH uses a segmented polyurethane solution to build the ventricles and internal diaphragms of the heart. It also uses an external battery, a compressed air pump and a blood sac to pump blood around the body.
Current industry standard
The leading provider of Total Artificial Heart Systems is Syncardia Systems – a 10-year trial found that 79% of patients who received this TAH survived to transplant of a donor heart. Syncardia also produces the 'freedom portable' TAH, which is powered by batteries and carried in a back-pack and therefore allows stable patients to leave the hospital while awaiting a donor heart.
Further developments
Further research in portable and internal heart systems should allow greater mobility for patients when awaiting transplants. This includes the recent development of the AbioCor heart; it is fully implantable, which means it does not require wires to pass through the skin.
The current Syncardia TAH is 70cm3; however a smaller 50cm3 heart is planned which should allow more women to access the technology than previously. The longest TAH currently in use has been in place for over 1300 days but further testing could allow the TAH to become a long term solution for patients who cannot access, or reject, donor hearts.