We recently came across this very interesting video (below) about chemistry and some of the stuff that comes from it. It would of take way more than 3 minutes and 30 seconds to provide the full picture but it already does a good job at illustrating, in a very didactic way, a few applications which would not exist without the innovative work of chemical engineers and designers.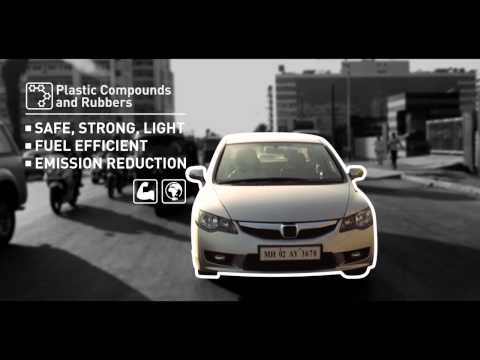 Looking at this we were reflecting on the general lack of understanding of the role of chemistry in our daily lives. We can't really expect people to get excited about knowing what everything is made of, and their properties. But basic knowledge of what a product is made of does help a consumer's decision. Polyurethanes are a good example: think about energy efficiency gains through their use as a powerful insulation material, be it in buildings or in the cold-food chain.
To illustrate this in our own way, we drew up a list of stuff where polyurethanes are the key component.
Don't be surprised if they have nothing to do with one another, it is exactly our point!
1. Bowling balls. Bowling as a sport has been around for some time. Ancient Egyptians used stones to play bowling as far as 5200 B.C. However, it was not until mid-20 century that bowling became a popular success. Now about 95 million people in more than ninety countries play bowling on a regular basis.
2. Surfing boards. As discussed previously on this blog, polyurethane had a significant role in bringing surfing to the masses. Not only are most modern surfing boards made of polyurethane – it was polyurethane that revolutionised the industry. Polyurethane surfing boards are both strong and flexible and are much cheaper than their wooden counterparts. You can find more about the history and qualities of PU surfboards in our recent blog post here.
3. Roller coasters. Safely dropping a bunch of adrenaline-seeking people at 160 km/hour is no easy task. Yet, it is the task assigned to polyurethane wheels which are installed on majority of roller coasters. Flexibility, lightness, strength and durability make it the perfect material for such extreme conditions.
4. Football (ball). European footballs (soccer balls), such as Adidas' Torfabrik Bundesliga Match Ball, are made out of thermoplastic polyurethane. PU material provides all qualities needed for footballs – lightness, durability, stable flying characteristics. In addition, due to its thermal characteristics, polyurethane balls have a perfect grip in all weather conditions.
5. Insulation. Polyurethane is an extremely efficient material for wall, roof, door, pipe, and even window insulation. In fact, PU insulation can reduce your energy consumption by up to 30%. This picture from the US Department of Energy shows a number of areas where polyurethane insulation can make a huge difference.
6. Bandages. Polyurethane are used extensively in wound healing applications, including the very common blister bandages only the luckiest of us all have never had to experience. The polyurethane membrane helps healing the wound better, notably by providing a moist healing environment.
7. Denim. This may come as a shock, but polyurethane is sometimes used to produce the iconic garment. The polyurethane coating is applied on jeans to give them a certain stretch while making sure they do not stretch out too much after wearing them repeatedly.
8. Polyurethane coastal protection. One of the most impressive polyurethanes innovation was their use for a type of revetment aimed at protecting dikes against erosion. The stones placed on the dike are coated with polyurethanes, allowing them to stand against the tide, over and over. The largest project to date featuring this new coastal protection system was completed recently at Bathpolder, at the southern tip of the Dutch North Sea coast, you can learn all about it here.
9. Polyurethane Fridges in Swaziland. Swaziland is one of the poorest nations in southern Africa; 60% of its population lives on less than 1 dollar a day and about 75% rely on subsistence farming. Because electricity is not widely available, food goes off very quickly in the sun and communal refrigerating appliances can only be used to a limited extent. The development of solar-powered polyurethane fridges is therefore a crucial innovation for Swaziland, allowing keeping food fresh for 5 days without electricity, thanks to polyurethane's insulating properties. This project was conducted by a local company called Palfridge and Bayer Material Science, we describe it in detail on the polyurethanes website.
10. Green roofs. We talked about green roofs elsewhere on this blog, but it remains one of our all-time favourite. What does it have to do with polyurethanes then? In fact, polyurethane can be used to substitute the traditional substrate and make it a lot easier to install. It is indeed a lot less heavy than traditional substrate and for that reason weighs a lot less on the building's structure.